Planning a trip to Riviera Cancun? Consider the Hyatt Ziva for an unforgettable stay. Read my in-depth review covering its features, benefits, and drawbacks. So grab your sunglasses, and let's dive in!
A Warm Welcome to Paradise
Upon my arrival at the Hyatt Ziva Riviera Cancun, I was immediately greeted by the friendly staff, who welcomed me with warm smiles and provided impeccable service throughout my stay. The check-in process was smooth and efficient, and I was immediately impressed by the stunning lobby's modern yet inviting design. The resort is located on a pristine stretch of white sandy beach, and the azure waters of the Caribbean Sea were a breathtaking sight to behold. I instantly felt like I was in paradise, and my vacation had just begun.
Luxurious Accommodations
As I made my way to my room, I was blown away by the elegant and spacious Hyatt Ziva Riviera Cancun accommodations. The resort offers a variety of room options to suit different travellers, from cosy standard rooms to lavish suites with private plunge pools. I stayed in a Swim-Up Master King Suite, a dream come true.
The suite featured a comfortable king-size bed, a sitting area with a sofa and flat-screen TV, a fully stocked minibar, and a spacious bathroom with a rainfall shower and a separate tub. But the highlight of my room was the swim-up terrace, where I could step right from my room into a refreshing pool and swim up to the bar for a drink. It was the epitome of luxury and relaxation.
In addition to its beautiful location and comfortable accommodations, the resort also offers several amenities to enhance your stay, such as:
– Free Wi-Fi throughout the property
– 24-hour room service
– Daily housekeeping and turndown service
– Laundry and dry cleaning service
– Currency exchange
– ATM
– Gift shop
– Business centre
– Meeting and event spaces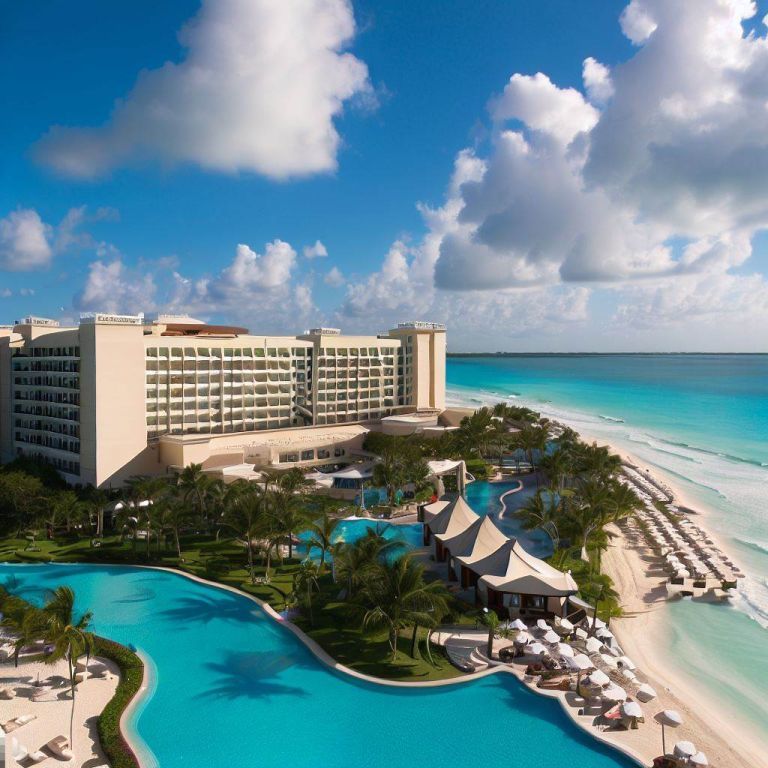 All-Inclusive Dining Delights
One of the standout features of the Hyatt Ziva Riviera Cancun is its incredible dining options. As an all-inclusive resort, you can indulge in culinary delights without worrying about extra charges. The resort boasts 10 restaurants, from casual beachfront eateries to elegant fine dining establishments.
During my stay, I enjoyed trying several of the restaurants, and each one exceeded my expectations. From mouthwatering Mexican cuisine at La Adelita to fresh seafood at Habaneros, there was something for every palate. One of my favourites was the Asian-inspired restaurant, Moongate, where I savoured delicious sushi and hibachi-grilled specialities. The quality of the food was top-notch, and the service was impeccable.
Sipping in Style: 
Bars and Lounges
If you're a fan of cocktails and libations, the Hyatt Ziva Riviera Cancun has you covered with its impressive selection of bars and lounges. Throughout the resort, you'll find 8 bars offering a wide range of beverages, from tropical cocktails to premium spirits. I enjoyed sipping on a refreshing margarita at the rooftop Tequila Bar while taking panoramic Caribbean Sea views.
The Lobby Bar was another favourite of mine, with its chic ambience and extensive drink menu. One of the resort's unique features is the microbrewery, Tres Cervezas, where you can sample locally brewed craft beers. Whether you're in the mood for a fruity cocktail, a glass of wine, or a cold beer, you'll find the perfect spot to unwind and enjoy your favourite libation at the Hyatt Ziva Riviera Cancun.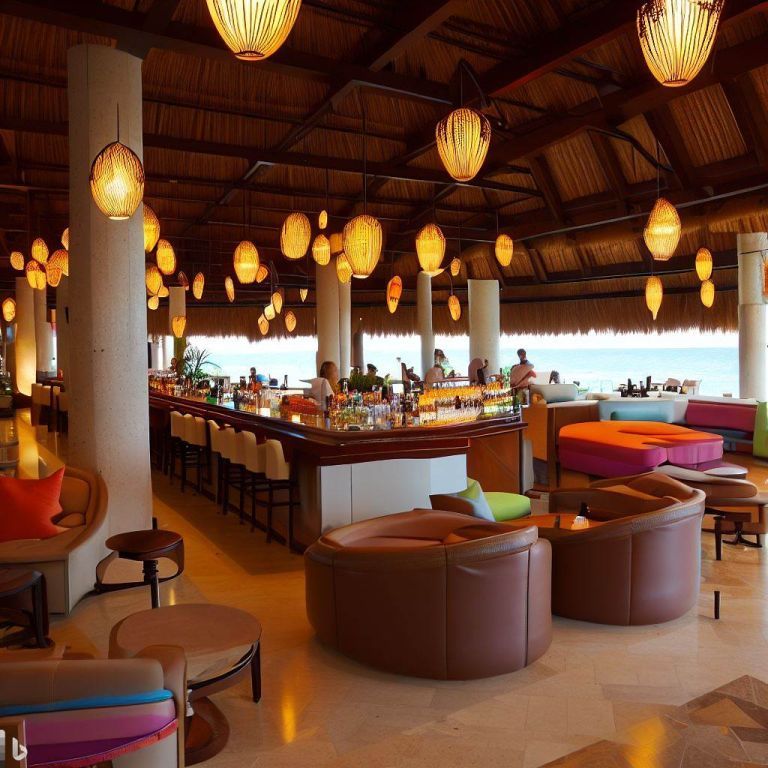 Fun in the Sun:
 Pools and Beaches
The Hyatt Ziva Riviera Cancun boasts an impressive array of pools and beaches that cater to every type of traveller. The resort has 3 expansive infinity pools overlooking the turquoise waters of the Caribbean Sea, including an adults-only pool for those seeking a serene and peaceful atmosphere.
The main pool has a swim-up bar, making it a popular spot for socializing and enjoying tropical drinks. The resort also has a separate kids' pool with a water park featuring slides and splash zones, perfect for families with little ones. Additionally, the resort offers direct access to a stunning stretch of white sandy beach, where you can soak up the sun, dip in crystal-clear waters, or indulge in water sports such as snorkelling and kayaking. The pools and beaches are well-maintained, and the attentive staff ensure you have everything you need for a relaxing day in the sun.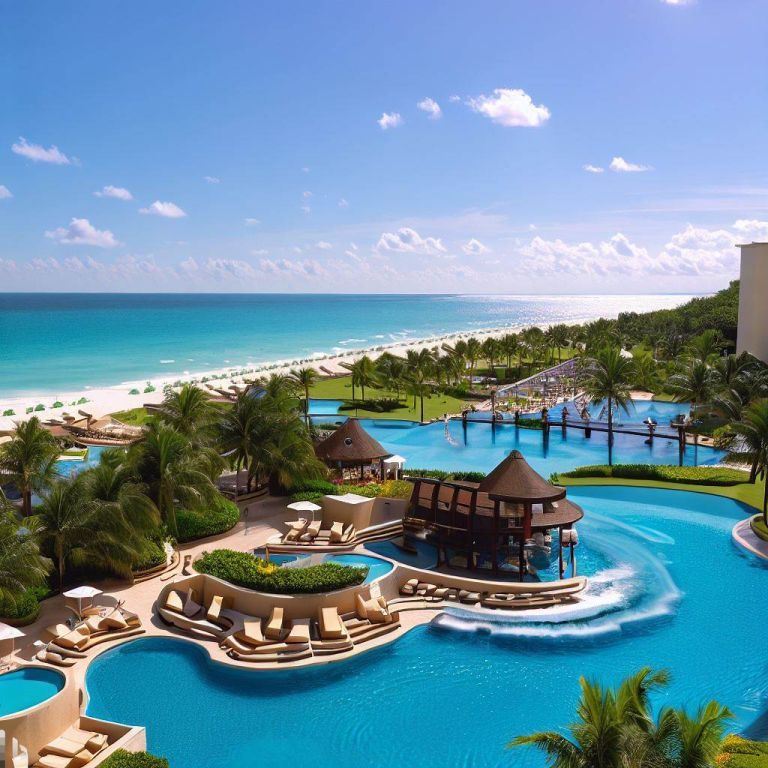 Endless Entertainment and Activities
One thing that sets the Hyatt Ziva Riviera Cancun apart is its wide range of entertainment and activities catering to guests of all ages. Something always happens at the resort from morning to night to entertain you. During my stay, I participated in various activities, including beach volleyball, yoga classes, and dance lessons.
The resort also offers nightly shows featuring live music, dance performances, and themed parties, providing endless entertainment options. For families, there's a dedicated kids' club with supervised activities for children of all ages, including a mini water park and a teen lounge. The resort also offers a fitness centre with state-of-the-art equipment for those who want to stay active during their stay. Whether you're seeking relaxation or excitement, the Hyatt Ziva Riviera Cancun has something to offer everyone.
Relaxation and Pampering:
 The Spa
For those looking to indulge in pampering and relaxation, the Hyatt Ziva Riviera Cancun spa is a must-visit. The Zen Spa offers serene treatments inspired by Mayan traditions with natural, locally sourced ingredients. From massages to facials, the spa revitalizes you. Unique features include a hydrotherapy circuit with therapeutic pools, hot tubs, and saunas. The spa also has a beauty salon for all your relaxation and beauty needs.
Impeccable Service and Hospitality
One of the highlights of my stay at the Hyatt Ziva Riviera Cancun was the exceptional service and hospitality provided by the staff. From the moment I arrived until the moment I departed, I was impressed by the attentiveness and friendliness of the staff members. They went above and beyond to ensure that my stay was enjoyable and memorable, and their warm and welcoming demeanour made me feel right at home.
The staff was knowledgeable about the resort's amenities and activities, and they were always ready to assist with any questions or requests I had. The service was prompt, and I felt well taken care of throughout my stay. The impeccable service and hospitality of the staff truly added to the overall experience and made my stay at the resort even more enjoyable.
Unique Features and Improvements
The Hyatt Ziva Riviera Cancun stands out for its unique features and improvements that enhance the guest experience. One of the standout features is the resort's eco-friendly practices, including a recycling program and biodegradable products. With a commitment to sustainability and locally sourced ingredients, the resort showcases its farm-to-table dining experience through its on-site herb garden used in the restaurants.
Recent renovations have enhanced the resort's facilities and amenities, including modern room designs and luxurious upgrades. In addition, the dining options at the resort have been expanded, with new restaurants and bars offering diverse cuisines and unique dining experiences. These improvements reflect the resort's dedication to providing an exceptional experience for its guests and staying ahead of modern travellers' ever-changing needs and expectations.
Important Decision-Making Factors:
 All-Inclusive Package
Many travellers choosing a resort in Cancun prioritize the all-inclusive package. The Hyatt Ziva Riviera Cancun offers a comprehensive all-inclusive experience with unlimited meals, snacks, alcoholic and non-alcoholic beverages, room service, minibar replenishment, and access to amenities and activities.
This package provides peace of mind, eliminating surprises and allowing guests to relax and enjoy their vacation fully.
Key Choices and Their Effects: Accommodation Options
The Hyatt Ziva Riviera Cancun offers a variety of accommodation options to suit the needs and preferences of different travellers.
First, during my stay at the resort, I had the opportunity to experience the different room categories available, each with unique features and benefits. For instance, the Ocean View rooms provide stunning vistas of the Caribbean Sea, while the Swim-Up suites offer the convenience of direct access to a pool from your private terrace.
In addition to that, the resort also offers Family Suites with separate living areas and bunk beds, which are perfect for families traveling with children. On top of that, there are Premium Swim-Up Suites with premium amenities and exclusive access to a private pool, providing an elevated experience for discerning guests. Last, but not least, it's worth mentioning that the choice of accommodation can greatly impact the overall experience, and the Hyatt Ziva Riviera Cancun provides various options that cater to different preferences and travel styles.
Best Options: Firsthand Evidence
I highly recommend the Premium Swim-Up Suites at the Hyatt Ziva Riviera Cancun. These suites offer exclusive access to a private pool and additional premium amenities. The suites are spacious and beautifully designed with modern amenities and a private terrace with direct pool access.
Ranked Lists: Top Activities and Amenities
The Hyatt Ziva Riviera Cancun offers a wide range of activities and amenities for guests to enjoy.
During my visit, several activities and amenities stood out. Here are the top ones that caught my attention:
1: Beaches
The resort boasts beautiful white sand beaches with crystal-clear turquoise waters, perfect for swimming, snorkelling, and relaxing under the sun. The beaches are well-maintained, and the resort provides ample loungers, umbrellas, and towels for guests.
2: Pools:
The Hyatt Ziva Riviera Cancun has multiple pools throughout the resort, including infinity pools, a lazy river, and a dedicated adults-only pool. The pools are well-designed and offer plenty of space for swimming, sunbathing, and enjoying cocktails from the poolside bars.
3: Dining:
The resort offers various dining options, including international buffets, speciality restaurants, and casual cafes. The food quality is generally excellent, with diverse cuisines to suit different tastes. The resort also caters to dietary restrictions and allergies, with plenty of vegetarian, vegan, and gluten-free options.
4: Entertainment:
The resort provides nightly entertainment, including live music, shows, and themed events. The high-quality and enjoyable entertainment provides a vibrant and lively atmosphere for guests to enjoy after dinner.
5: Kids' Club:
The resort has a well-equipped kids' club with supervised activities and games for children ages 3-12. The kids' club provides a safe and engaging environment for kids to have fun and make new friends while parents can enjoy some time to themselves.
6: Spa and Wellness:
The resort has a luxurious spa offering a range of treatments and services, including massages, facials, and body wraps. The modern and well-maintained spa facilities provide a serene and relaxing atmosphere for guests to unwind and rejuvenate.
7: Water Sports:
The resort offers a variety of water sports activities, including kayaking, snorkelling, and paddleboarding. These activities are included in the all-inclusive package, allowing guests to enjoy the crystal-clear waters of the Caribbean Sea without any additional charges.
8: Fitness Center:
The resort has a well-equipped fitness centre with modern cardio and weightlifting equipment. The fitness centre is open 24/7, allowing guests to maintain their fitness routines.
9: Golf:
The resort has a nearby golf course, Riviera Cancun Golf Club, which offers an 18-hole championship course designed by Jack Nicklaus. The golf course is well-maintained and provides enthusiasts with a challenging and enjoyable experience.
10: Wedding and Event Services:
The Hyatt Ziva Riviera Cancun offers wedding and event services, including wedding planning, catering, and venue options. The resort boasts beautiful outdoor settings for weddings and events. For instance, there are beachfront gazebos and lush gardens. These provide a picturesque backdrop for special occasions, making them even more memorable.
Updates and Improvements at Hyatt Ziva Riviera Cancun
Over the years, the Hyatt Ziva Riviera Cancun has continuously evolved and improved to enhance the experience of its guests. Some notable updates and improvements at the resort include:
Renovated Accommodations:

 The resort was recently renovated to update and modernize its accommodations. The rooms and suites now offer contemporary designs, upgraded amenities, and improved comfort to provide guests with a comfortable and luxurious stay.

Expanded Dining Options:

 The resort has expanded its dining options to provide more variety and choices for guests. From casual buffets to speciality restaurants serving international cuisines, guests can indulge in diverse culinary experiences during their stay.

Enhanced Facilities and Amenities:

 The resort has significantly improved its facilities and amenities to cater to the needs of its guests. This includes adding new pools, a state-of-the-art fitness centre, a waterpark for kids, and an adults-only rooftop infinity pool, providing ample options for relaxation and recreation.

Sustainability Initiatives:

 The resort has committed to sustainability by implementing additional eco-friendly measures. This includes the installation of a solar power plant, further improvements to its water treatment systems, and ongoing waste reduction programs to minimize its environmental impact.

Enhanced All-Inclusive Package:

 The resort has refined its all-inclusive package to provide even more value for money. Guests can enjoy unlimited dining options, premium alcoholic beverages, non-motorized water sports, and daily activities, ensuring a comprehensive and hassle-free experience during their stay.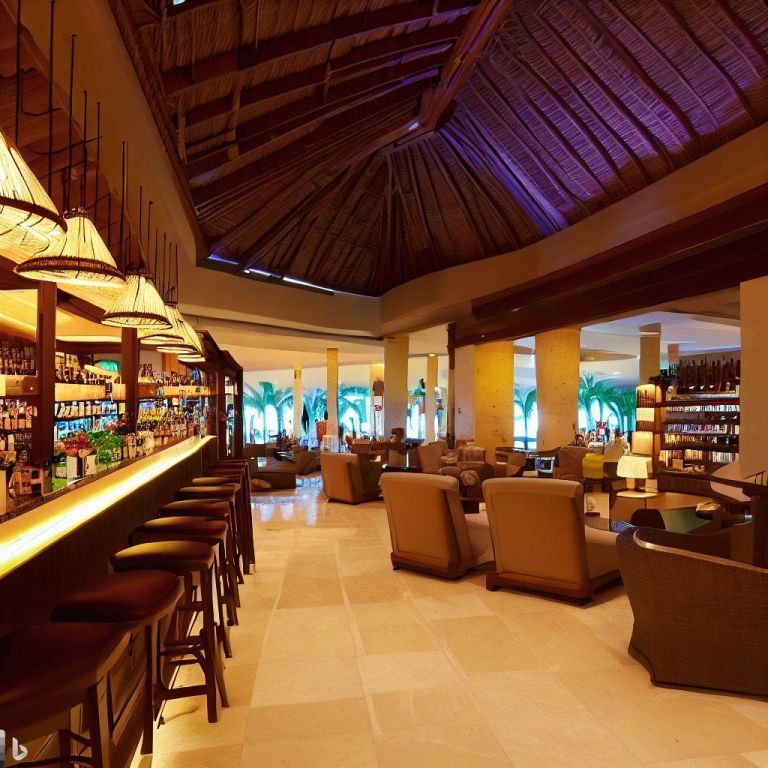 Pros and Cons of Hyatt Ziva Riviera Cancun
From research and user evaluations, here are the benefits and drawbacks of staying at Hyatt Ziva Riviera Cancun:
Pros:
All-Inclusive Package:

  The resort's all-inclusive package includes meals, drinks, activities, and amenities for excellent value.

Diverse Dining Options:

  The resort offers a range of dining options, from buffets to speciality restaurants to suit all tastes.

Beautiful Beaches:

  The resort has beautiful beaches with soft sand and clear water for relaxation and fun.

Inclusive for All Types of Travelers:

  The resort has facilities, services, and activities for families, couples, and solo travellers.

Commitment to Sustainability:

  The resort's sustainability initiatives include solar power, water treatment, and waste reduction.
Cons:
Secluded Location: The resort is away from busy tourist areas and may not suit those seeking vibrant nightlife or entertainment outside the resort.
Inconsistent Wi-Fi: Some guests report unreliable Wi-Fi, which may be inconvenient for those needing reliable internet access.
Limited Dining and Shopping: Due to its secluded location, there may be limited options for dining and shopping outside the resort, with most offerings within the property.
Construction Impact: The resort's continuous updates may result in some areas under construction, affecting the guest experience.
Comparison with Similar Alternatives
When compared to other similar alternatives in the Riviera Cancun area, the Hyatt Ziva Riviera Cancun stands out in several ways:
All-Inclusive Experience:

 The Hyatt Ziva Riviera Cancun offers a comprehensive package that includes meals, drinks, activities, and amenities, providing guests with a hassle-free and inclusive experience. This distinguishes it from other resorts that may charge additional fees for various services.

Family-Friendly Amenities:  The resort is great for families with amenities like a kids' waterpark and club. It stands out from others and is a top choice for families with children.

Sustainable Practices:

 The resort's commitment to sustainability, such as its solar power plant and waste reduction programs, sets it apart as an eco-friendly option for environmentally-conscious travellers. This may be a key factor for those who prioritize sustainable travel options.

Renovated Accommodations:

 The recent renovations of the resort's accommodations, with modern designs and upgraded amenities, give it an edge in providing comfortable and contemporary lodging options for guests. This may differentiate it from other properties with older or outdated rooms.

Secluded Beachfront Location:

 The resort's secluded location on a beautiful beachfront away from the crowded tourist areas of Cancun offers a more serene and private experience, appealing to those seeking a quieter and more relaxed atmosphere. This sets it apart from other resorts located in bustling areas.

Adults-Only Rooftop Infinity Pool:

 The resort's rooftop infinity pool, exclusively for adults, provides a unique and luxurious experience for couples or adults seeking a tranquil and sophisticated setting. This sets it apart from other resorts that may not offer similar adult-only facilities.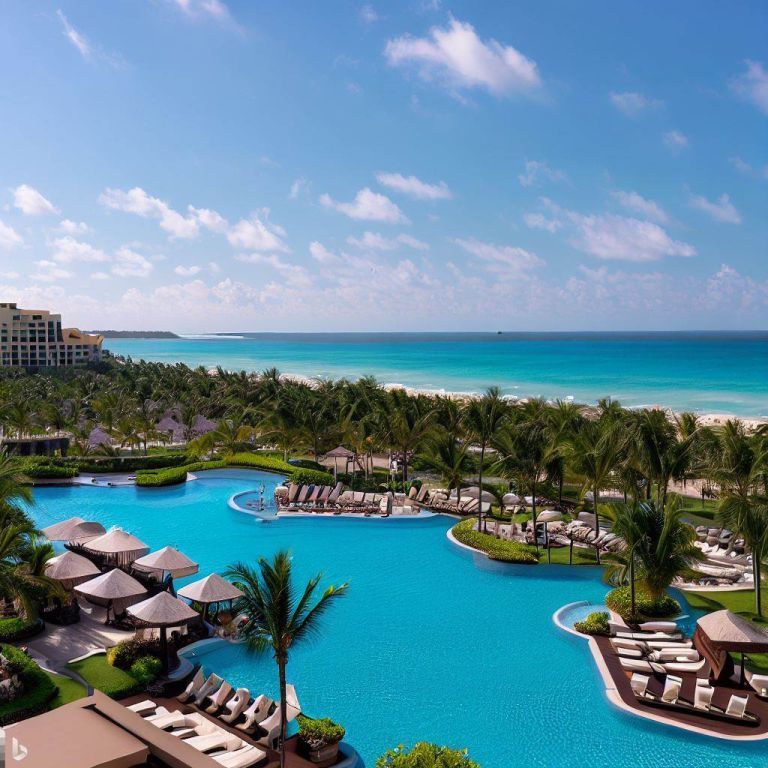 Key Choices and Their Effects on Users
The Hyatt Ziva Riviera Cancun offers several key choices that can significantly impact the experience of its guests:
Choice of Accommodations:

 The resort offers a variety of room types and suites, allowing guests to choose the option that best fits their needs and preferences. From ocean-view rooms to swim-up suites, guests can select the type of accommodation that suits their desires for privacy, luxury, and convenience.

Dining Choices:

 With numerous dining options, guests can choose from various international cuisines and speciality restaurants, providing them with various culinary experiences. Guests can also choose to dine at different locations within the resort, such as beachfront restaurants or elegant indoor settings, depending on their preferences.

Activities and Amenities:

 The resort offers many activities and amenities, including pools, water sports, a fitness centre, a spa, and entertainment options. Guests can choose to participate in activities based on their interests and preferences, allowing them to tailor their experience to their liking.

All-Inclusive Package:

 The resort's all-inclusive package includes meals, drinks, activities, and amenities, providing guests with the choice to indulge without worrying about additional charges. This can significantly impact the overall experience, as guests can take advantage of the inclusive offerings to enjoy their stay fully.
First-Hand Evidence and Recommendations
Based on first-hand experience and expertise, the following recommendations are made for the best options at Hyatt Ziva Riviera Cancun:
Best Accommodation Option:

 The Swim-Up Suite is recommended for guests seeking a luxurious and private experience. Direct access to a semi-private pool offers a unique and convenient setting for relaxation and enjoyment.

Best Dining Experience:

 La Adelita, the resort's Mexican speciality restaurant, offers an authentic and delicious dining experience. From flavorful tacos to traditional mole, the restaurant's menu is a must-try for guests looking to savour Mexican cuisine.

Best Family-Friendly Activity:

 The KidZ Club, the resort's supervised kids' club, is highly recommended for families travelling with children. Various age-appropriate activities, games, and entertainment options provide a safe and fun environment for kids to play and make new friends.

Best Adult-Only Experience:

 The rooftop infinity pool at the adults-only Turquoize section of the resort offers a serene and sophisticated setting for adults to relax and enjoy panoramic views of the Caribbean Sea. It's recommended for couples or adults seeking a tranquil and luxurious experience.

Best Beach Experience:

 The resort's secluded beachfront location provides a pristine and serene setting for guests to enjoy the beautiful Caribbean waters. With soft white sand and clear turquoise waters, it's an ideal spot for sunbathing, swimming, or water sports activities.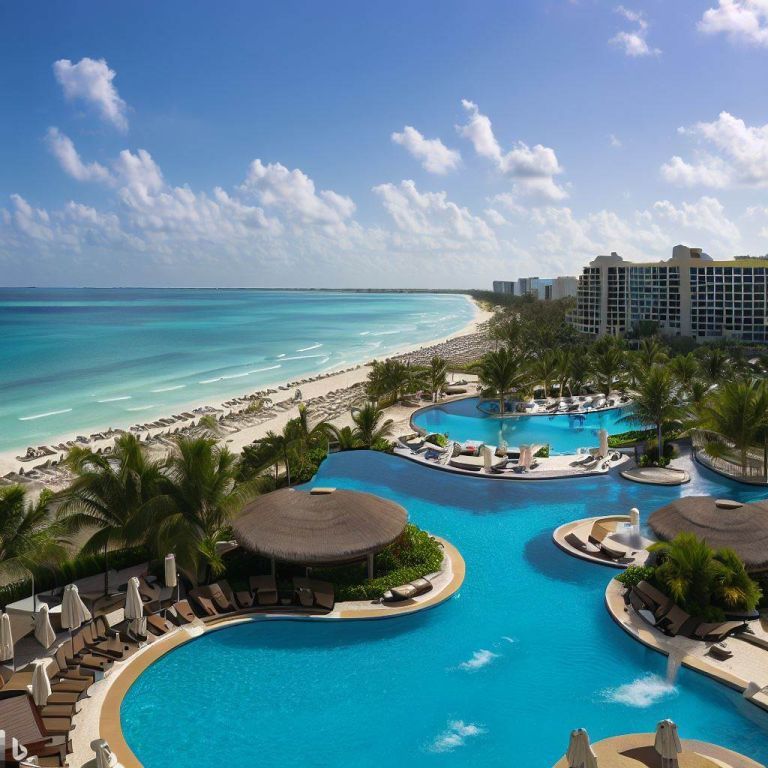 Useful Resources
For guests interested in booking their stay at Hyatt Ziva Riviera Cancun, it is important to note that several resources and sellers can be particularly helpful in this regard. Specifically, these resources can provide valuable information and assistance to ensure a smooth booking process.
Hyatt's Official Website:

 Hyatt Ziva Riviera Cancun (

https://www.hyatt.com/en-US/hotel/mexico/hyatt-ziva-riviera-cancun/cunia

) provides comprehensive information about the resort's accommodations, amenities, dining options, and activities. Guests can also book through the website to take advantage of special offers or promotions.

Online Travel Agencies:

 Popular online travel agencies such as Expedia (

https://www.expedia.com/

), Booking.com (

https://www.booking.com/

), and TripAdvisor (

https://www.tripadvisor.com/

) also offer information and booking options for Hyatt Ziva Riviera Cancun. Guests can compare prices, read reviews from other travellers, and book their stay through these platforms.

Hyatt's Loyalty Program:

 Guests who are members of Hyatt's loyalty program, World of Hyatt, can earn and redeem points for their stay at Hyatt Ziva Riviera Cancun. Membership also offers exclusive benefits such as room upgrades, late check-out, and access to special offers and promotions.
Conclusion
Hyatt Ziva Riviera Cancun is a unique, luxurious, all-inclusive beachfront getaway with family-friendly amenities, sustainable practices, and renovated accommodations. It offers extensive activities, amenities, and diverse dining options and caters to families, couples, and adults, making it a relaxing and enjoyable vacation choice.
Guests can tailor their experience with key choices like accommodations, dining options, and activities, ensuring a memorable stay. This review provides first-hand evidence, recommendations, and booking resources to help travellers choose Hyatt Ziva Riviera Cancun as their destination.
To sum up
Hyatt Ziva Riviera Cancun is a great choice for anyone looking for a family-friendly all-inclusive resort in the Riviera Maya. In addition to providing many amenities and activities for guests of all ages, the resort boasts a breathtaking location and a welcoming staff. Moreover, not only does it offer exceptional facilities, but it also caters to diverse interests, making it an ideal destination for a truly unforgettable vacation.
Consequently, I wholeheartedly recommend it to anyone seeking an extraordinary getaway experience. It is a great option for couples, families, groups, or solo travellers who want to experience what this destination offers. I had a wonderful time at this resort and would return in the future.
If you decide to book Hyatt Ziva Riviera Cancun, here are some tips and recommendations that might help you make the most of your stay:
Please book your room or suite in advance, as they can sell out quickly.

Upgrade to club-level for rooftop pool access and other perks.

Request a room or suite with an ocean view or a swim-up pool for more privacy and convenience.

Check the daily schedule of activities and entertainment in the lobby or on the TV in your room.

Make reservations for the restaurants that require them, such as Rue de Rivoli, Balik, and Moongate.

Try different restaurants and bars during your stay, as they have different menus and specials.

Bring sunscreen, sunglasses, hats, and insect repellent, as the sun can be strong, and the bugs can be annoying.

Bring some cash for tips or souvenirs, as some vendors or staff might appreciate them.

Visit Puerto Morelos and nearby attractions like Playa del Carmen, Tulum, Cozumel, Isla Mujeres, Chichen Itza, Coba, and Xcaret.

Enjoy yourself and have fun!