Emirates, the national airline of Dubai, is known for its luxury services, including its first-class suites. The first-class suites on the Los Angeles to Dubai route are impressive, offering a world-class travel experience. This comprehensive guide will explore everything you need to know about Emirates first-class suites on the LAX to Dubai route, from the seat layout to the dining options and entertainment.
Booking Emirates First Class
Booking Emirates First Class is a luxurious and exclusive experience for travellers seeking comfort and style. With spacious seats that recline into flatbeds, gourmet dining options, and top-notch entertainment systems, Emirates First Class offers a truly unparalleled in-flight experience.
The process of booking Emirates First Class is simple. First, you can visit the Emirates website or use a travel agency to find available flight options. Once you have selected your preferred flight, you can book online or over the phone.
It is important to note that Emirates First Class is a highly sought-after experience, so it is recommended to book your seats as early as possible to secure your desired flight and date. You can also opt for the Emirates First Class lounge access at the airport, which provides an even more luxurious and relaxing start to your journey.
Regarding payment, Emirates accepts a wide range of credit cards and offers flexible payment options, including paying in instalments. Emirates also offers a rewards program, Skywards, which allows you to earn miles and redeem them for future flights, upgrades, and other benefits.
Booking Emirates First Class is a treat for travellers looking for the ultimate comfort and style. With easy booking options, flexible payment options, and the bonus of lounge access, Emirates First Class is truly a top-of-the-line experience.
Emirates First Class Lounge at LAX
The Emirates First Class Lounge at LAX is a luxurious escape from the hustle and bustle of the airport. You are transported to a world of sophistication and comfort when you step inside. With its elegant design and state-of-the-art amenities, the lounge provides a serene environment for travellers to relax and recharge before their flight.
One of the highlights of the lounge is its spacious seating area, where you can lounge on comfortable chairs and sofas while taking in the stunning views of the runway. If you need to catch up on work, private workstations are equipped with all the necessary technology.
The lounge offers a sumptuous spread of international cuisine for those looking to dine, from fresh salads and appetizers to main courses and desserts. And for those who prefer to relax with a drink, there's a well-stocked bar serving various beverages, including fine wines and champagne.
The most remarkable feature of the Emirates First Class Lounge is its exceptional service. The staff is attentive and friendly, always going above and beyond to ensure your experience is memorable. Whether you need help with your luggage or want a recommendation for a restaurant in the city, they are always there to assist.
The Emirates First Class Lounge at LAX offers travellers a first-class experience that exceeds their expectations. From its luxurious surroundings to its exceptional service, it's the perfect place to start your journey in style.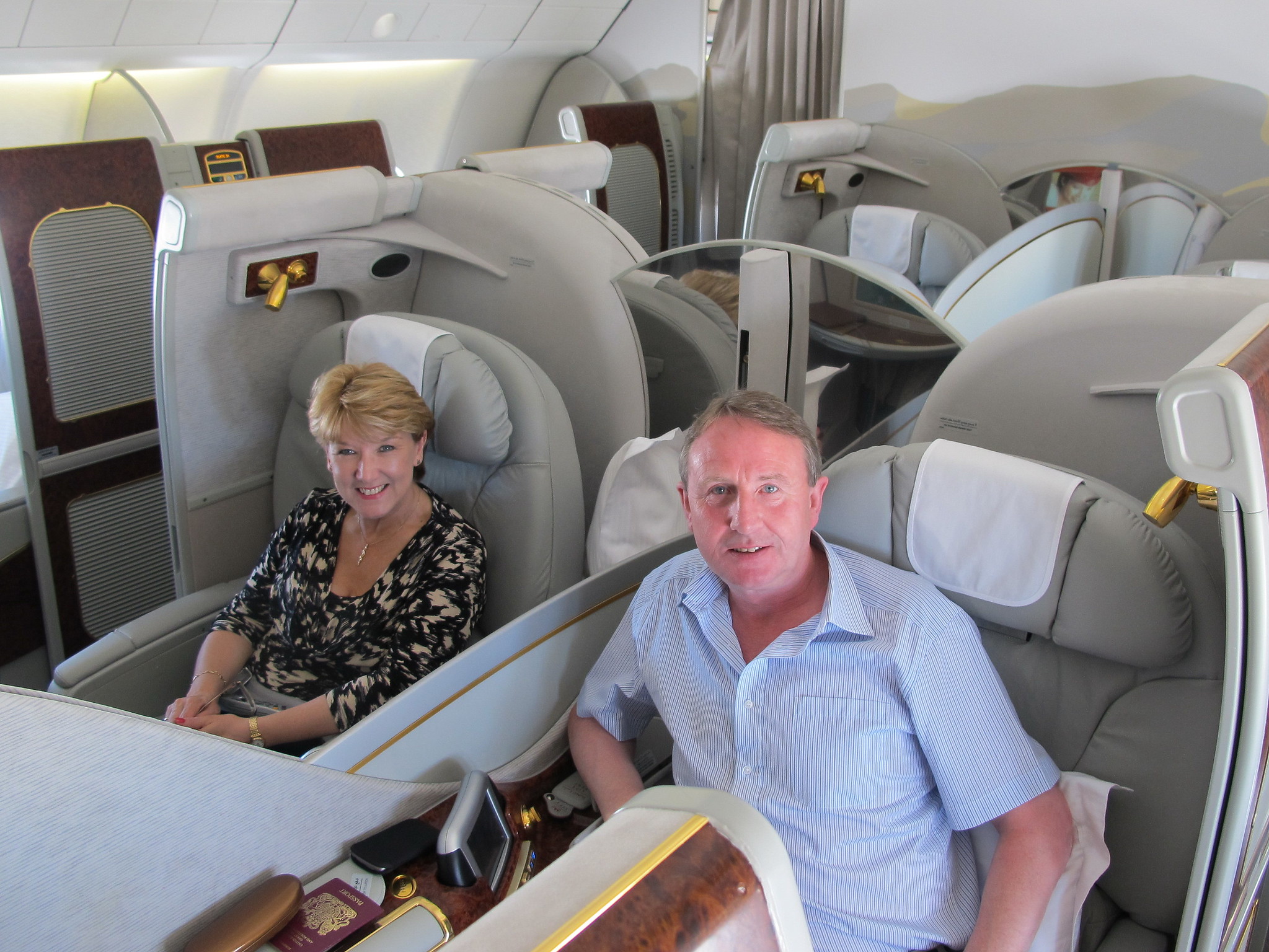 LAX to Dubai Emirates First Class Suite Seat Layout
The Emirates first-class suite features a fully-enclosed private cabin with floor-to-ceiling sliding doors. The cabin has enough room to stand up and walk around. The seats are some of the largest and most comfortable first-class seats in the sky, measuring 83 inches long and up to 28 inches wide. The seats can be adjusted into a flatbed, allowing you to relax and sleep comfortably. The bedding is top-notch, with soft linens and plush pillows.
Emirates First Class seats offer travellers the ultimate comfort and luxury. With spacious, private suites, world-class dining options, and unparalleled service, Emirates First Class takes air travel to new heights.
Each suite features a fully flat bed, ensuring a good night's sleep even at cruising altitude. The seats are equipped with state-of-the-art entertainment systems, providing passengers with an extensive library of movies, TV shows, and games.

Passengers can also enjoy a range of dining options, with menus designed by top international chefs and presented on elegant tableware. Emirates First Class also offers a private bar, where travellers can enjoy a pre-flight drink or relax with a nightcap after a long flight.

In addition to the luxurious amenities, Emirates First Class passengers receive VIP treatment, with priority check-in, baggage handling, and boarding. Emirates' highly-trained staff are on hand to attend to every need, ensuring a seamless and enjoyable travel experience.
Emirates First Class seats provide comfort and luxury unmatched in the skies. Whether for a special occasion or to treat oneself to the best, Emirates First Class is the epitome of air travel.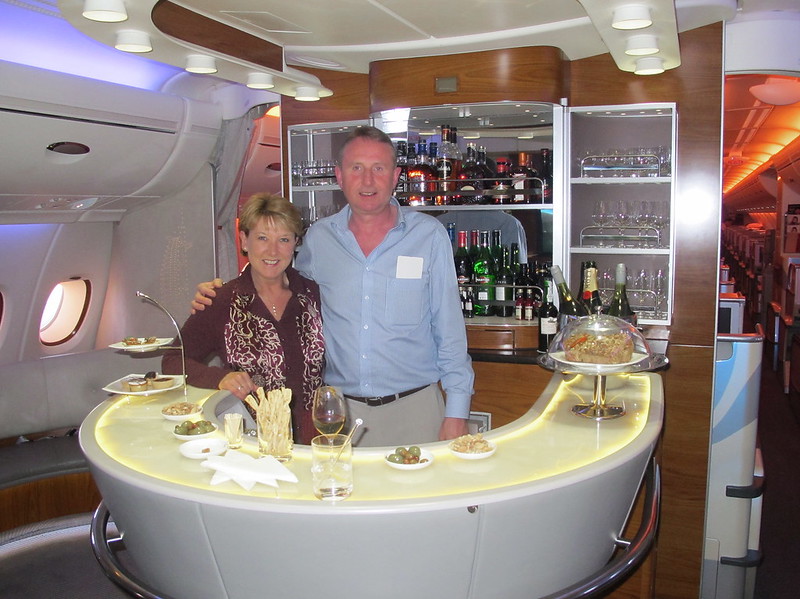 LAX to Dubai Emirates First Class Suite Amenities
Emirates has thought of everything regarding amenities in their first-class suites. Each seat has its mini-bar, a large touchscreen TV, and a vanity table. There's also ample storage space for your belongings to keep everything within reach.
The private cabin is equipped with mood lighting, which can be adjusted to your preference. You'll also have access to Emirates' exclusive first-class lounge, where you can enjoy a range of food and drinks and use the spa and shower facilities.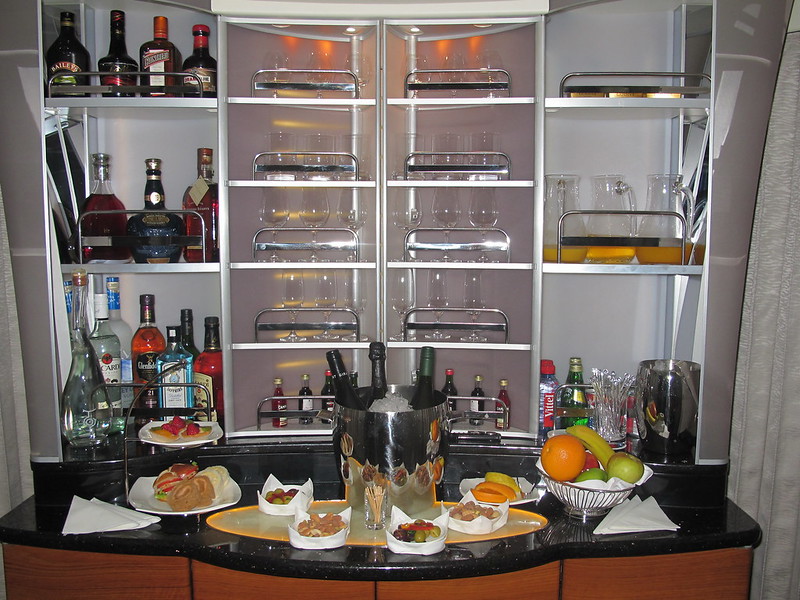 LAX to Dubai Emirates First Class Suite Dining Experience
The dining experience in Emirates first class is one of a kind. You'll be able to choose from a wide selection of gourmet meals prepared by Emirates' internationally-renowned chefs. 
The meals are served on fine bone china and accompanied by a range of premium wines and Champagnes. If you have any dietary requirements, the flight crew will be more than happy to accommodate them. You can also order meals anytime, so you can dine when it suits you.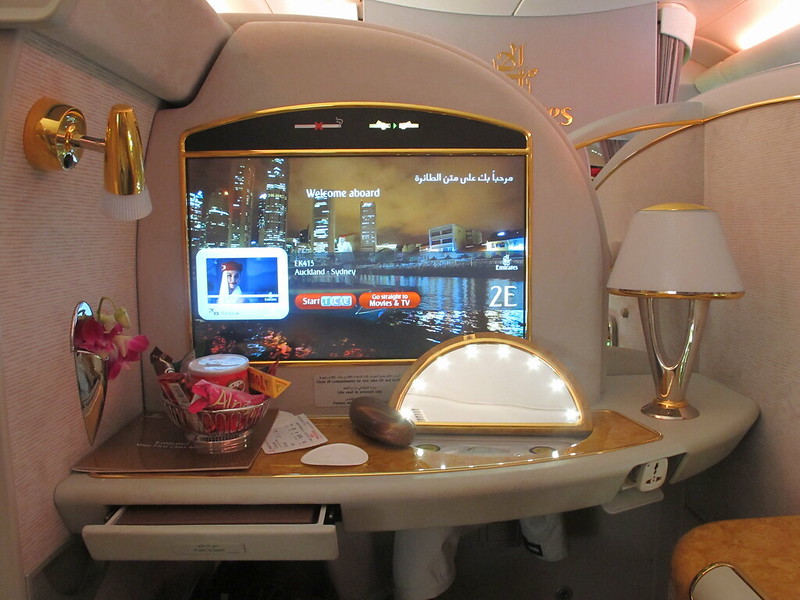 Suite Entertainment
Emirates is renowned for its entertainment offerings, and the first-class suite is no exception. The large touchscreen TV has a range of movies, shows, games, and music to keep you entertained throughout the flight. The entertainment system also features a noise-cancelling headset to enjoy your content without interruptions. If you need to stay connected, Wi-Fi and mobile connectivity are available, so you can keep in touch with loved ones or work on the go.
Lax to Dubai
Are you asking for information about travelling from Los Angeles (LAX) to Dubai? If so, here is some general information that might be helpful:
Flight duration:

 The flight from Los Angeles International Airport (LAX) to Dubai International Airport (DXB) typically takes around 17 hours, depending on the airline and any stops.

Airlines:

 Several airlines operate flights between LAX and DXB, including Emirates, Qatar Airways, Etihad Airways, and Delta Air Lines.

Cost:

 A one-way ticket can vary greatly depending on the airline, time of year, and how far in advance you book. On average, you can expect to pay anywhere from $600 to $1,500 for a one-way ticket.

Layovers:

 Many flights from LAX to DXB have at least one stop along the way, often in another city in the Middle East, such as Doha or Abu Dhabi. The layover duration can vary, ranging from a few hours to a full day.
LAX to Dubai First Class Suite Amenities:
Feature
Description
Emirates First Class Suite
–
Fully-enclosed private cabin

Spacious enough to stand and walk around
Equipped with mood lighting

Spacious seats

Measuring 83 inches long and up to 28 inches wide
Adjustable into a flat bed
Mini-bar and touchscreen TV included
Vanity table and storage space available

Flat bed

Soft linens and plush pillows for maximum comfort

Mini-bar

Personal mini-bar for each seat

Touchscreen TV

Large touchscreen TV with a range of entertainment options

Vanity table

Convenient vanity table for grooming

Mood lighting

Adjustable mood lighting for a personalized experience

First-class lounge access

Access to Emirates' exclusive first-class lounge
Includes food and drinks, as well as spa and shower facilities

Gourmet meals

Wide selection of gourmet meals prepared by Emirates' renowned chefs
Served on fine bone china with premium wines and Champagnes
Dietary requirements can be accommodated

Premium entertainment

Extensive entertainment system with movies, TV shows, games, and music
Noise-cancelling headset included
Wi-Fi and mobile connectivity available
Conclusion
Travelling in the Emirates first-class suite on the Los Angeles to Dubai route is an unforgettable experience. You will surely have a luxurious journey with its spacious and comfortable seats, extensive amenities, and world-class dining and entertainment. Whether travelling for business or leisure, Emirates first class is the ultimate way to travel.